A/B testing and optimization are essential aspects of running successful Google Ads campaigns. By experimenting with different elements of your ads and analyzing data, you can improve your performance and achieve better results. Here are some key tips and strategies for A/B testing and optimization in Google Ads:
Also Read: What is Performance Marketing? An Introductory Guide 2023
Identify Your Goals:
Before you start A/B testing, it's important to know what you're trying to achieve. Are you looking to increase click-through rates, reduce cost-per-click, or boost conversion rates? Knowing your goals will help you determine what elements of your ads to test.
Pick Your Test Variables:
Decide which elements of your ads you want to test. Some common variables include ad copy, images, headlines, and call-to-action (CTA) buttons. You should test one variable at a time to ensure that you have accurate data to analyze.
Split Your Audience:
Use Google Ads' ad scheduling and targeting features to split your audience into two or more groups. For example, you can create a group that only sees your control ad and another group that sees a variation of your ad.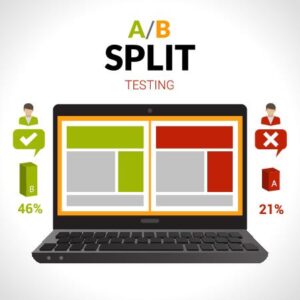 Measure Results:
Use Google Ads' conversion tracking and analytics tools to measure the results of your A/B tests. Look for differences in click-through rates, cost-per-click, and conversion rates between your control ad and your test ad.
Analyze the Data:
Once you've gathered data, analyze the results to see which ad performed better. If one ad outperforms the other, make it your new control ad and repeat the process. If you see no significant difference between the ads, it's time to try a new variable.
Make Data-driven Decisions:
Use the results of your A/B tests to make data-driven decisions about your Google Ads campaigns. Based on your findings, you may want to adjust your bids, target different audiences, or change the elements of your ads.
Continuously Test and Optimize:
A/B testing and optimization are ongoing processes. You should continue to test and optimize your ads regularly to ensure that you're always getting the best results from your campaigns.
By following these tips and strategies, you can make the most of your Google Ads campaigns and achieve your goals. Remember, A/B testing and optimization are not one-time events, but a continuous process of experimentation, data analysis, and improvement. With the right approach and a commitment to continuous improvement, you can achieve great results with Google Ads.